Well it's here, her birthday. As of 5:38pm March 23rd, 2011 Caitlyn is 1 year old. Its been a year of joy, learning and struggles. But most of all its been a year of love. Love for my daughter who was so much more than I imagined she would be. Love for my husband, who is the best father I could have wished for. Love for my family and friends, who have been a part of her life and supported me during this past year.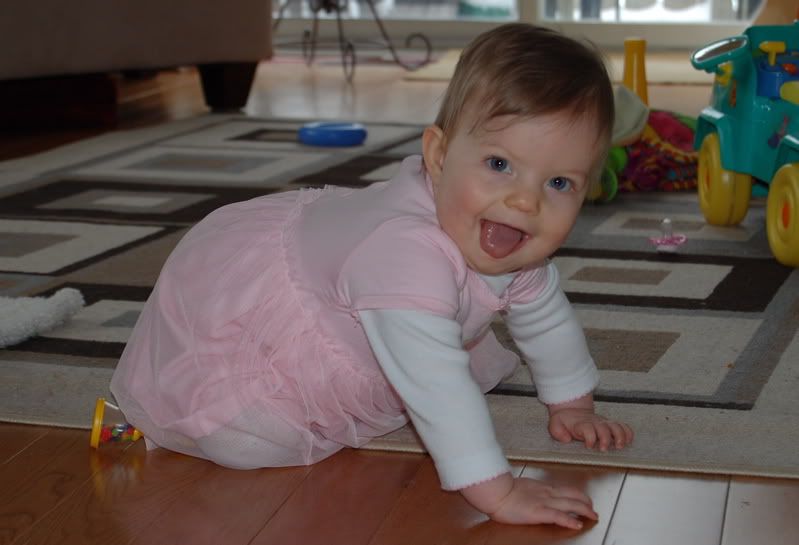 I started this
blog
a few weeks after Caitlyn was born so while I did a quick summary of how
our family came to be
, I never did a true birth story for Caitlyn. In honor of her birthday and before I forget I thought I would share that story today.
Caitlyn's Birth Story:
Her story actually starts two days before her birthday. Sunday March 21st 2010, Brock and I were having a quiet evening at home. I was 35 weeks pregnant and still working. Brock was messing around with the stereo, as he often does, and was playing the Black Eyed Peas new song Boom Boom Pow pretty loud with lots of base.
As the song was playing Caitlyn kicked me harder than she ever had before. It was painful! She kicked me more than once and I actually made Brock turn off the song convinced that it was what was causing Caitlyn to kick so hard. I still smile every time I hear that song.
That night I went to bed thinking nothing more of her earlier kicks. At 4am Monday March 22nd, I woke up to go to the bathroom for what must have been the third time that night. Except this time was different, my underwear and pants were all wet. I actually smelled them to check if I had peed myself (too much info? maybe). Turns out it wasn't pee after all, my water broke. I blame the Black Eyed Peas. That kick from earlier started this chain of events.
Brock and I were totally unprepared, I was only 35 weeks after all. I was supposed to have at least 2 weeks left before Caitlyn joined us. We left for the hospital with just my purse. No bag filled with labor stuff or baby things for Caitlyn to come home in. Just me and my i.d.
We showed up at the hospital and got checked in. They attached the monitors to me and checked to make sure everything was ok. We called our parents and our moms came to London to be with us. I called in sick to work since my maternity leave wasn't set to start for two more weeks. After several hours labor was not progressing and I was told it could be another week or two. So the moms headed home as did Brock and I settled in for what could have been a very long week. Luckily I didn't have to wait after all.
At 1 am Tuesday March 23rd I started getting some consistent contractions. I called Brock back to the hospital around 4am, a full 24 hours after my water broke. Contractions started coming stronger and stronger, for someone who wanted a "natural" labor I was in shock at how painful it was. Given that Caitlyn was coming 5 weeks early I was stuck on the monitors the entire labor and unable to move around, all the pain relief techniques you learn in your prenatal class went out the window. After the first contraction that made me cry I asked for an epidural. It was probably the best decision of the day :)
We decided not to call our parents right away, our moms had already missed a day of work and I didn't want to call them back to London if nothing was happening. Once we knew that Caitlyn was coming for sure we called our parents and asked them to come up later that day. It was really great having just Brock in the labor room with me. He was so wonderful the entire day and it was a very special time that the two of us got to share. I wouldn't have had it any other way.
By 3:00 that afternoon I was ready to start pushing, it was so much more tiring than I expected. Brock and I got into a great little routine early on. Between each push he would wipe my brow and offer me a sip of water. I remember telling him not to push my bangs up because I didn't want them sticking straight up in the pictures after she was born. Little did I know I would have a huge swollen head and two black eyes. Did I mention pushing was hard?
At 5:38pm she was born. They took her off to the side of the room right away to check her and make sure she was ok, since she was premature. She scored a 9 on the apgar scale, weighed 6lbs 1oz and was 18 inches long. I can barely remember the first time I held her, I just know that I had that moment. You know the one people talk about where you fall in love right away with that little person you just brought into the world. Yup, that was me. I loved her right from the start.
She surprised us by coming early and we were so lucky that she was fine. Brock on the other hand got sprayed with placenta blood just before he went out to tell my father everything went well and we were both healthy. I can just imagine people's faces when he walked out of the delivery room with blood all over his shirt. I remember crying when I saw my mom for the first time after Caitlyn was born. I was so happy that everything was ok.
There aren't many pictures of myself that I'm willing to share from that day. Did I mention the swollen head and black eyes? Yeah no one bothered to tell me about that until all the pictures had been taken and the visitors were gone for the day. I found out when I went to the bathroom for the first time after she was born. Needless to say, the pictures aren't pretty :)
What I will share are a few pictures from the past year as we've watched our baby girl grow.
Day she was born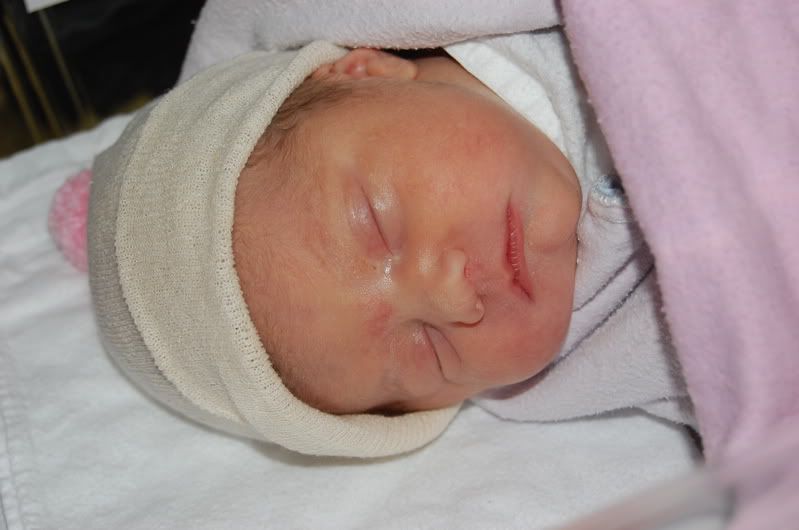 1 Month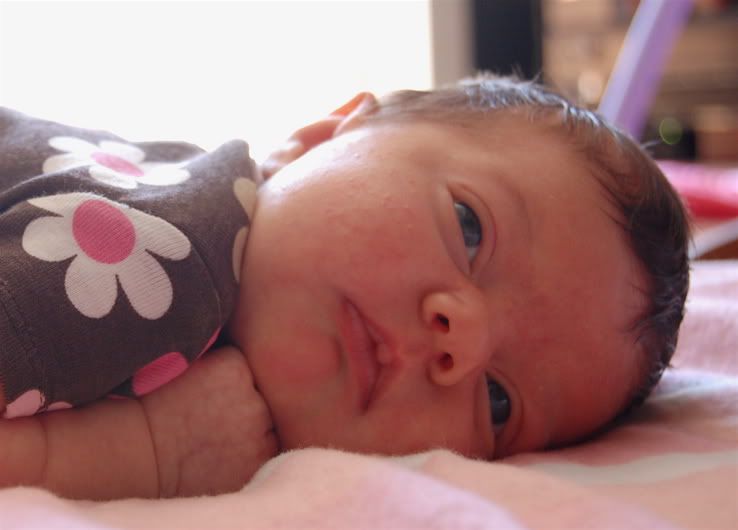 2 Months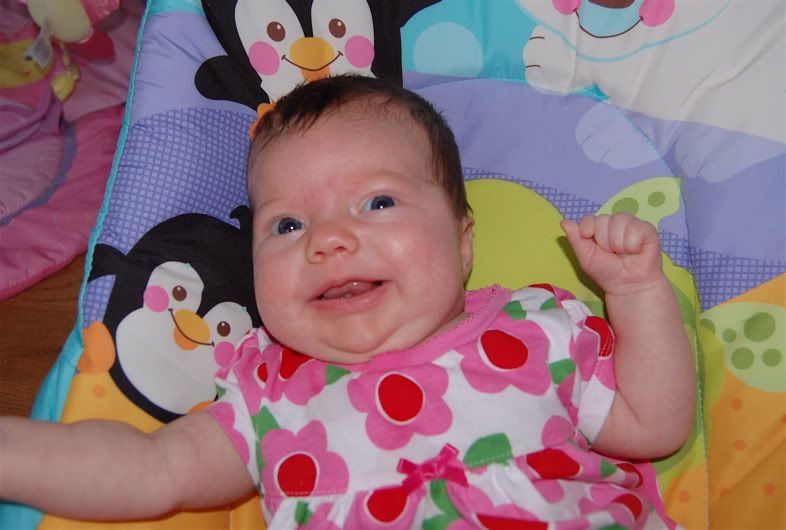 3 Months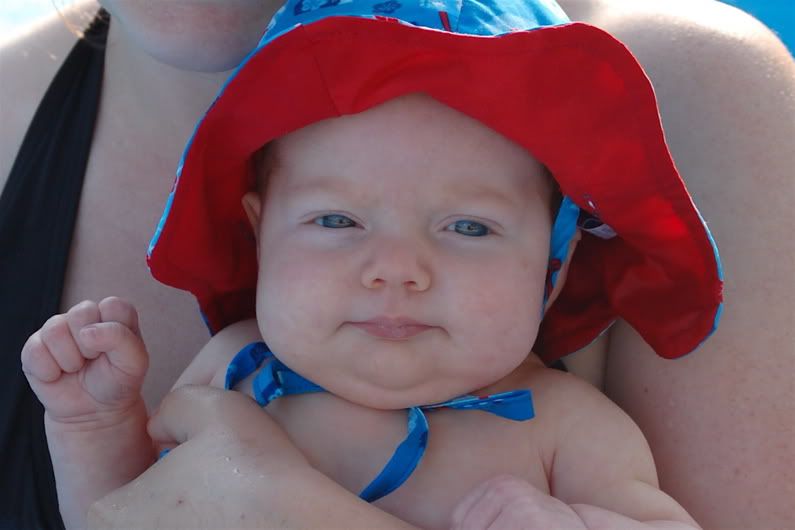 4 Months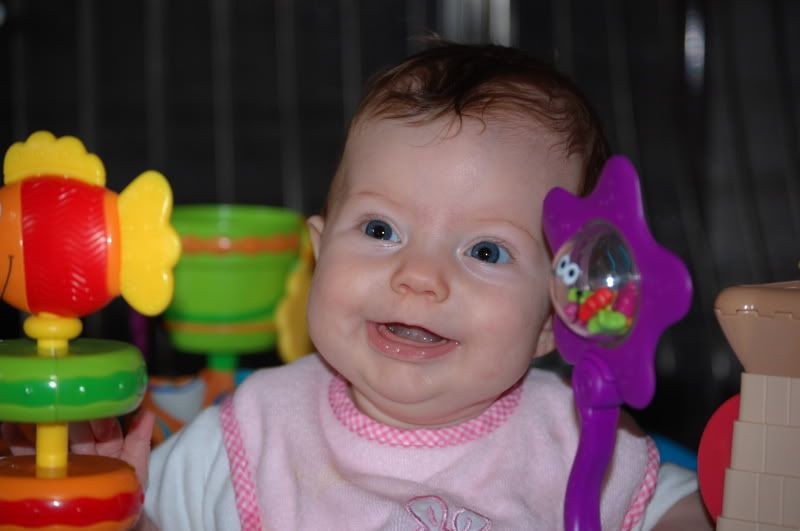 5 Months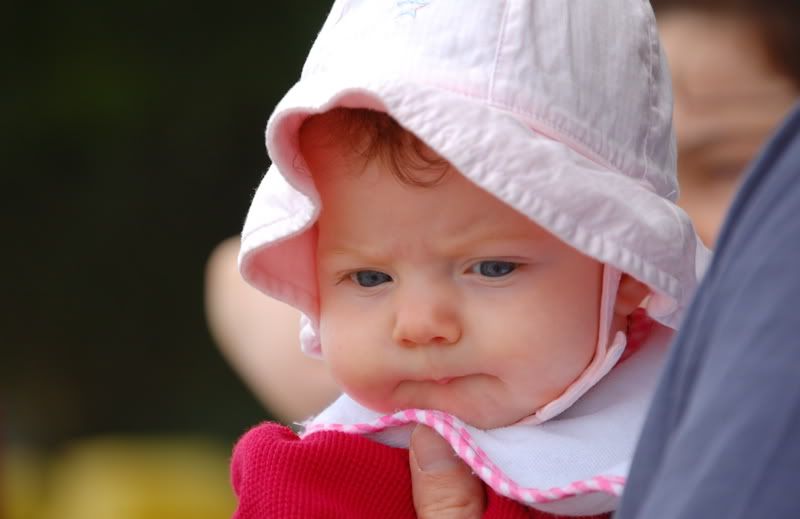 6 Months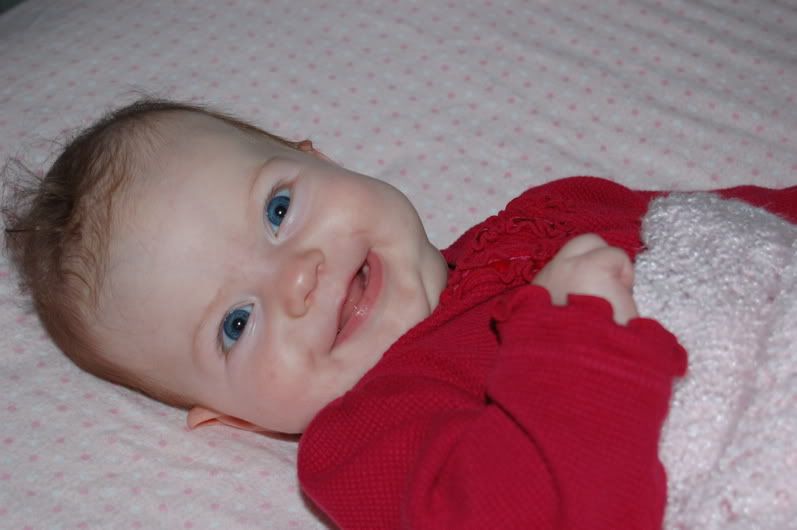 7 Months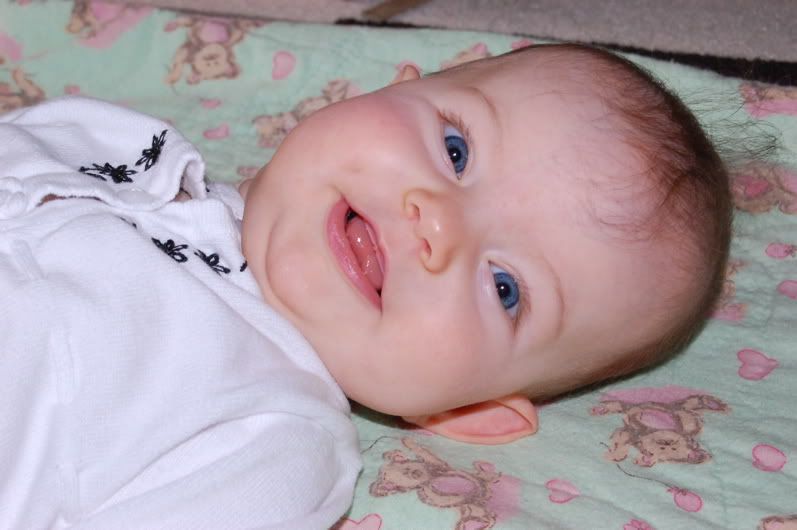 8 Months
9 Months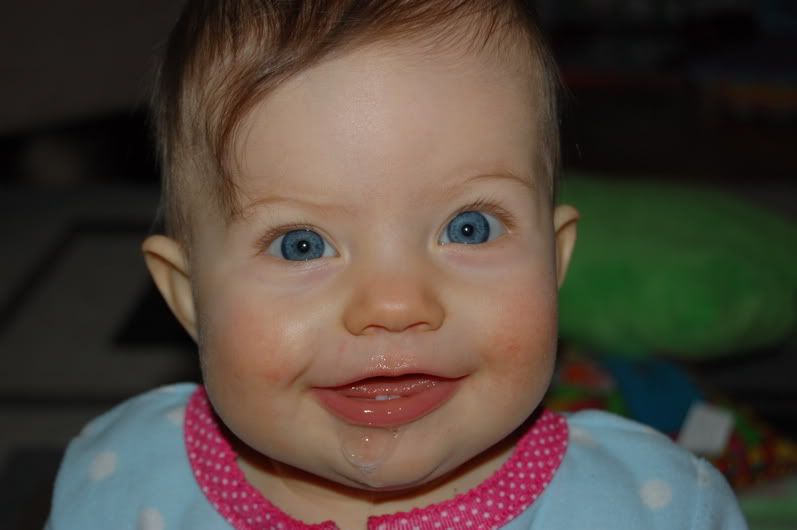 10 Months
11 Months
1 Year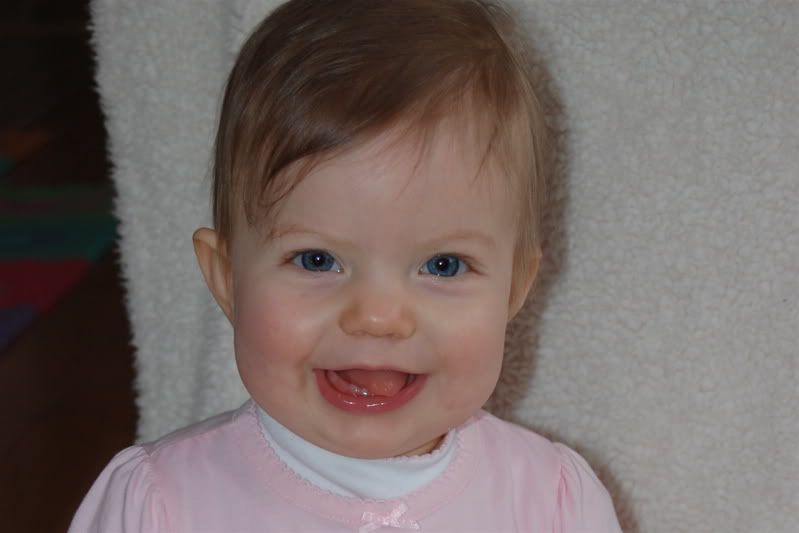 Happy Birthday Caitlyn!! I can't believe you're 1 year old already. It feels like just yesterday you were still in my tummy growing like crazy but really you've been out and a part of our lives for a whole year already. You're the best thing that's ever happened to me and I love you so very much! Happy Birthday baby girl!