Caitlyn's 1st birthday is in 3 days. I'm not ready for this, I'm not ready to have a one year old. It feels like I just got used to having a baby and now I have a little toddler.
Caitlyn has changed a tremendous amount in a very short period of time.
She understands lots of different words now. My personal favorite is when we are in bed every morning and Brock's alarm goes off I'll say "wake up Daddy" and she immediately crawls over to him and either crawls on top of him, slaps him or pulls his hair to wake him up. Sometimes I don't even have to tell her to do it she just automatically heads over and wakes him up.
Babbling like crazy! This kid has entire conversations these days and gets so excited while she's talking. She's saying Mama and Dada (especially Dada) a lot more these days. She seems to sing and when she hears the song "When you're happy and you know it clap your hands" she actually claps. Its amazing to watch her.
She is loving her food and mine. It seems like now every time I have anything to eat I'm sharing with Caitlyn. She comes right over and starts begging for whatever it is that I'm eating. This is a good thing for me actually, might encourage me to make better choices if I'm sharing with her. She wants to eat from my spoons and drink from my cups (a little messy of course).
When we make her breakfast in the morning she goes crazy following us around the kitchen. She pulls herself up on the cupboards or on my legs trying to get at her breakfast on the counter. We don't have to carry her to her high chair anymore. Just call her and she crawls right over ready to eat.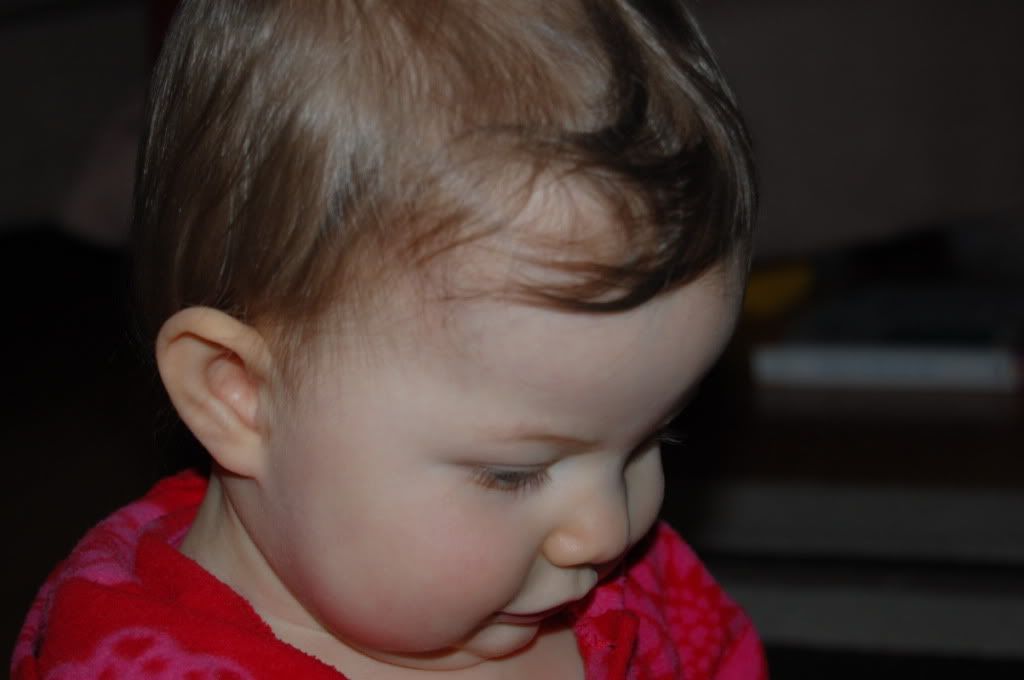 Her laughter is so contagious. We play games with her where I'll hold her and Daddy chases. She laughs so much we can't help but laugh with her. I love how easy it is to make her happy.
She has eight teeth! That's right, four on the bottom and four on top. I can't believe how fast the top ones have come in considering how long it took for the first two to come out. I'm really hoping we get a little break from teething before her molars start showing up.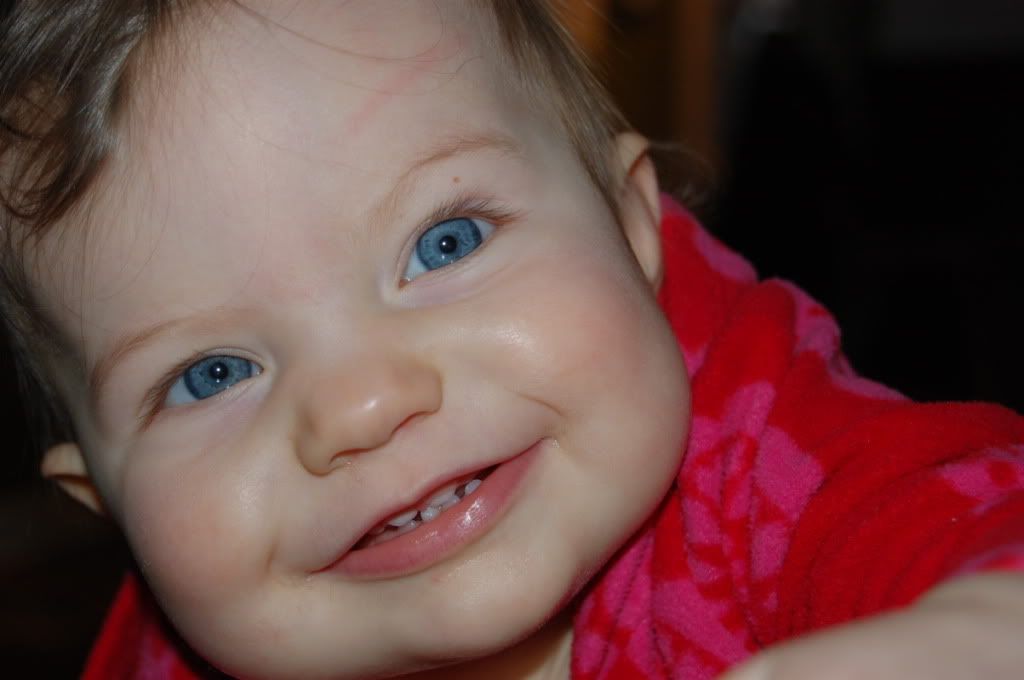 Wednesday we'll be celebrating her very 1st birthday. I wanted to thank you for taking the time to follow the journey of her first year. I hope that so far you've enjoyed reading this blog as much as I've enjoyed writing it. Can't wait to see what her 2nd year will be like.